Conservation
Published on December 11th, 2011 | by Karen Lee
4
Non-Materialistic, Memory Making, Eco-Friendly Gift Ideas
Giving non-materialistic are eco-friendly gifts are ultimate ways to create a long lasting memories for the recipients and benefit the planet. The next best idea to giving fair trade goodies and handmade items from local shops is to give an experience that the recipients will not forget. They not only eliminate waste, but more often, the recipients will remember your thoughtfulness and create memories that will last, long after the holidays.
And you can purchase most of them from your home, online, which saves carbon footprint. You can shop, in your jammies, on Christmas Eve! Perfect for last minute gifts!
Here are some great gift ideas that require minimal gift wrapping with maximum "Wow" factor.
Adopt or Save a Life
Donate to any non-profit organization on their behalf. It's easy and perfect for last minute gifting. And benefits the planet the most! What is there not to like?
Classes
Purchase a set of classes for Yoga, Wine Tasting, Cooking, Knitting, Gardening or even at a local community college's continuing education class. If for kids, give them dance lessons, sport practices, karate classes, and kids cooking classes.
Vacation
Go on an eco vacation your family will remember. There are many destinations that cater to families and you can easily find the one that will fit your need.
Membership
A year subscription to a local museum, nature center, zoo, and state park will undoubtedly impress the recipient. A season pass to an orchestra or a sporting event is an excellent idea too. If you can, try to buy for two so that he/she can enjoy with a companion, hopefully YOU!
The Arts
Whether it's a rock concert or an orchestra concert, a performing arts concerts will create an everlasting memory. It's a perfect opportunity to introduce young kids to the arts and a great day for them to spend  a day, away from the digital world.
Eco-Friendly Gifts
LED or CFL light bulbs – this might sound strange but since they are not the cheap 99 cents variety, some people might NOT be inclined to buy them right away. Give them a head start and buy a pack or two of light bulbs. They will appreciate your thoughtfulness every time they turn on the light!
Smart Strip – these are energy saving strips that turn off automatically when appliances are not in use. Perfect gift that saves them energy bills. Again, they'll think of you every time they save money!
Energy Audit – if the recipient is a home owner, an independent energy audit will be a great way to help them save money. Utility companies offer inexpensive energy audits
What memory making gifts have you received or given in the past?
[Rockfeller Center Photo is by Andrew F. Kazmierski and the girl with a present are from Shutterstock.com]
MAKE SOLAR WORK FOR YOU!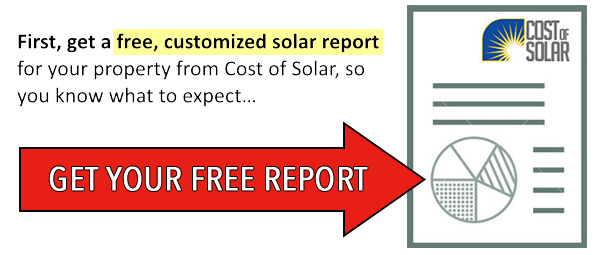 Next, use your Solar Report to get the best quote!