DIY (do-it-yourself) Projects
Published on March 15th, 2013 | by Andrea Bertoli
0
Fermentation Fun: Homemade Kim Chi
We love DIY (do-it-yourself) projects here at Green Living Ideas: making things at home to help keep our bellies full, our houses clean and planet green is super fun and inspiring! Across our network we've got recipes for homemade vegan water kefir, homemade body care products, homemade breads, even homemade drain cleaner! Today we have an edible recipe for a great homemade staple: Homemade Kim Chi.
If you've ever eaten at a Korean restaurant, you've probably seen a side dish made from cabbage that is spicy red-hot and DELICIOUS! Kim chi, usually made from cabbage, ginger, garlic and spices, is a naturally fermented, spicy cabbage side dish that is served with every meal in Korea. Not only is it crazy delicious, it's a great source of natural probiotics from the fermentation process and loaded all the goodness of raw, healing foods.
There are as many Kim chi recipes as there are Korean grandmothers. Kim chi 'recipes' are interesting because they all have a slightly different approach. Some say to brine the vegetables, others say to simply let the cabbage stand in salted water; root vegetables, onions, fruits and many other ingredients also make an appearance in other kim chi recipes. The point is, none of them are really 'right' but they will all work, giving you slighty different results each time, each season. That's part of the fun of homemade fermentation! Some of the sources I used are fermentation expert Sandor Elix Katz, nutritionist Sarah B. from My New Roots, raw food goddess Ani Phyo, and EcoKaren, who offered her expertise when I posted my experiments on Facebook!
Homemade Kim chi: The basics
You will need a good bit of Napa cabbage- the slightly curly kind, not the round head of green cabbage (see photo below). Get a large head, one that's free from wilting and bruises. You will also need ample amounts of garlic, ginger, fine ground sea salt and spicy red pepper. I headed to our local Korean market for some gochugaru, but regular crushed red chili flakes will work too. You will also need some 1-liter mason jars, maybe three or four. Have them sterilized and ready to go before starting your kim chi makin'.
 Homemade Kim Chi
1 napa cabbage, halved and chopped
1-2 Tablespoons sea salt
½ cup water
1 cup chopped vegetables (daikon, carrots, etc.)(optional)
2 green onions, sliced into 2 inch pieces
3 cloves garlic, minced
1 Tablespoon fresh grated ginger
1 Tablespoon Korean chili powder (more to taste)
Place cabbage into a large bowl. Place salt and water in separate bowl, mix to dissolve. Pour over the vegetables and cover. Let stand overnight.
The following day, drain off and reserve soak water. Add vegetables (is using) green onions, garlic, ginger, and chili to cabbage and mix well. Tightly pack into sterilized glass jar.
Pour reserved soak water into jar to cover the cabbage mixture. Leave jar on at room temperature (probably on the kitchen counter) for 3-4 days. Using clean utensils, taste each day for tanginess and let culture longer if you like. There might be bubbles- that's good! Every day open to jars to release excess carbon dioxide. Refrigerate after opening– it will keep for a long time!
Yield: 3-5 cups
MAKE SOLAR WORK FOR YOU!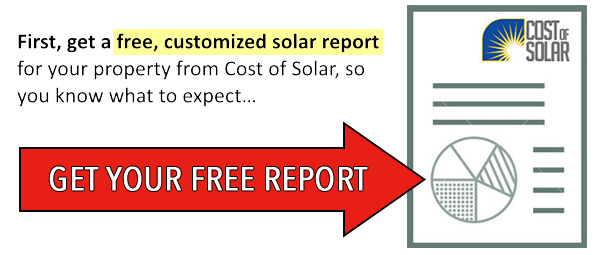 Next, use your Solar Report to get the best quote!