Eco Friendly Fashion and Beauty
Published on November 21st, 2011 | by Sonya Kanelstrand
2
Use Bananas for Healthy Skin
Bananas are in the top 5 of the most nourishing fruits because they contain large quantities of magnesium, potassium, iron, zinc, iodine, and vitamins A, B, E, and F. Apart from taking care of your bones, eyesight, and kidneys they are also a great way to preserve the quality of your skin and hair. So, not only you can eat them but you can also use bananas alone or in combination with other natural ingredients to make face masks to maintain healthy and beautiful skin.
Wrinkles
The natural anti-aging properties of bananas combined with the skin-friendly nutrients like vitamin A, C, B6 help protect your skin from cell damage and premature aging. Make a beauty mask by mashing ¼ of a ripe banana, 1 tablespoon of honey and 1 tablespoon of yogurt. Apply to your face and massage gently the wrinkled areas. Leave the mask for about 15 minutes and rinse.
Acne
Did you know that you can use the inside of banana peels in your fight against acne? Since acne involves skin inflammation and irritation, the inside of the banana peel can be used to soothe the skin and reduce acne outbreaks. Just make sure to get really ripe bananas with black spots along the yellow peel to get the most of the treatment. Rub your face with the peel for about 10 minutes but take care to replace the peels once they get black. It is important not to wash your face afterwards and to leave the banana film work on your acne. Continue the treatment several days and you will see how your acne fades away.
Dry Skin
Dry skin is a problem that arises mostly during the cold winter months when the humidity in the air is less or when the your food is less nutritious and lacks essential vitamins and antioxidants. With time dry skin develops into scales and cracks which can be rather itchy and unpleasant. A thick banana paste will do magic for your dry skin. If you want to reduce your wrinkles or just to relieve dry skin, mash a banana well until it gets creamy and massage your face well with the mixture. Leave on for about 15 minutes and rinse well.
Rough skin
Mash a banana and mix it with 2 tablespoons of honey. Warm them together on the stove. Simmer until the texture gets smooth. Let cool a bit and apply to the affected areas (face, hands, elbows, feet) to smooth rough spots and brighten dull skin.
Warts
The high potassium level in bananas helps kill warts. The potassium is believed to have a caustic effect during long periods of contact with the skin. In other words, the potassium is burning away the wart, layer by layer, without damaging healthy skin or causing scars. There are two ways of using bananas against warts:
Rub the inside of a little piece of a banana peel on the affected area each night and you will see results within one to two weeks. It is important to use fresh banana peels each day and to have bananas that are just turning from green to yellow, because the active healing compounds degrade with age.
Or you can secure the inner side of the peel to the wart with an adhesive bandage, so as to leave the peel work overnight. Wash the treated area with soap and warm water in the morning and allow the wart to air dry. Then apply a clean bandage to the wart during the day. Since the virus that causes warts thrives in moist environments, take care to change the bandage if it gets wet.
Remove the dark parts of the damaged wart daily with nail trimmers. You must expose the fresh, undamaged wart root to the peel to enhance the treatment. You will begin to see progress in about 4 days and hopefully your wart will disappear in about 2 weeks.
Psoriasis
Bananas have been known as a wonderful natural remedy against psoriasis. The inflammation caused by psoriasis can rarely be treated with standard moisturizers, or oils.
The inside of the banana peel can give results within weeks. The natural moisture, nutrients and compounds of the banana can effectively reduce itchiness and help make scales disappear. Rubbing the inside of the peel on the affected areas twice a day may help relieve or even eliminate the symptoms of psoriasis and restore the skin back to a healthy state.
The extraordinary thing about bananas is that they are good to use on the inside as well as on the outside, they are available everywhere and they are inexpensive. So next time when you need to tone up your skin don't rush into buying the latest beauty product which will probably be packed with parabens and carcinogens. Turn to Nature (or your kitchen) and give a banana a try. Soon you will find yourself attracted not only to eating them but also to using them and their peels for even more beauty on the outside.
Sources:
http://www.natural-skin-care-info.com/bananas.html
http://www.wikihow.com/Treat-Acne-With-Banana-Peels
http://www.natural-homeremedies.com/homeremedies_dryskin.htm
[Photo via Shutterstock]
MAKE SOLAR WORK FOR YOU!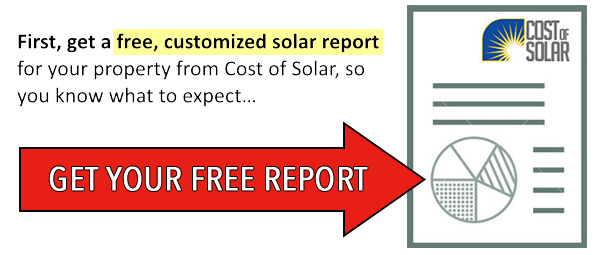 Next, use your Solar Report to get the best quote!